Rest assured, you will never have to do without this hot and comfortable soup on a Keto diet! Replacing noodles with shirataki vegetables or noodles will help reduce carbohydrates and keep you ketosis. If you prepare this dish directly at home, you can control the ingredients, making it one of the healthiest bowls to enjoy.
Preparation time: 5 minutes
Cooking time: 25 minutes
Portions: 5
Ingredients:
1 tablespoon olive oil
1 small onion (sliced)
1 tablespoon freshly grated ginger
3 garlic cloves, finely chopped
1 teaspoon chili paste
1/2 teaspoon salt
1/4 teaspoon pepper
1 tablespoon fish sauce
1/4 cup soy sauce (or coconut aminos)
1/4 cup rice wine vinegar
115g mushrooms (thinly sliced)
4 hard-boiled eggs
2 to 3 packets of shirataki noodles (or 4 to 5 cups zucchini noodles)
5 cups bone broth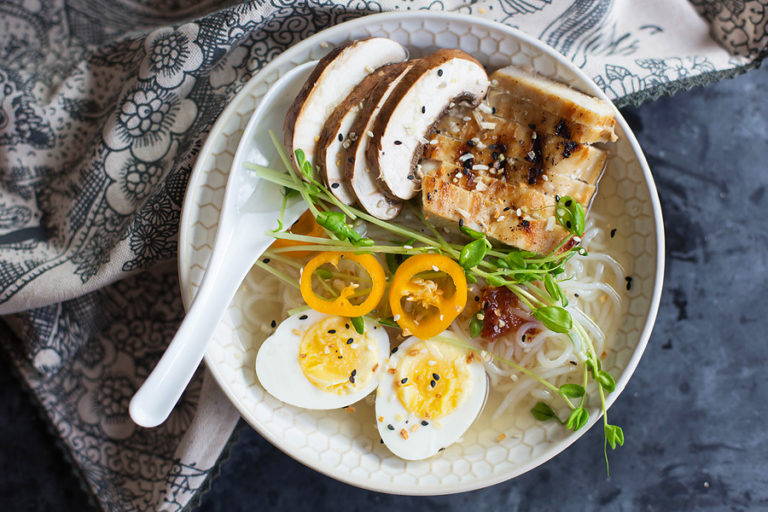 Instructions:
In a large saucepan, add oil and heat over medium heat. Sauté onions for 2-3 minutes until softened.

Add the rest of the ingredients to the pan (except the eggs and noodles). Simmer over medium-low heat for 20-30 minutes.

Remove the noodles from the packaging and rinse well with cold water.

Adjust the seasoning to the broth. Stir in noodles.

Divide into bowls. Add cut hard-boiled eggs, sliced chicken or beef, coriander, sesame seeds, chopped green onion and additional chili sauce.