Mushrooms are not just low in carbohydrates, they are also high in B vitamins, copper, selenium and potassium. This cream of mushroom has only 6.7g of carbs per serving, making it perfect for your keto diet.
Preparation time : 10 minutes
Cooking time : 25 minutes
Portions: 4
Ingredients:
85g unsalted butter
1 small leek, sliced ​​(white and light green parts only)
3 garlic cloves, minced
400g sliced ​​mushrooms
Salt and pepper to taste
3 cups of chicken broth
2 tablespoons of tamari sauce
¼ cup heavy cream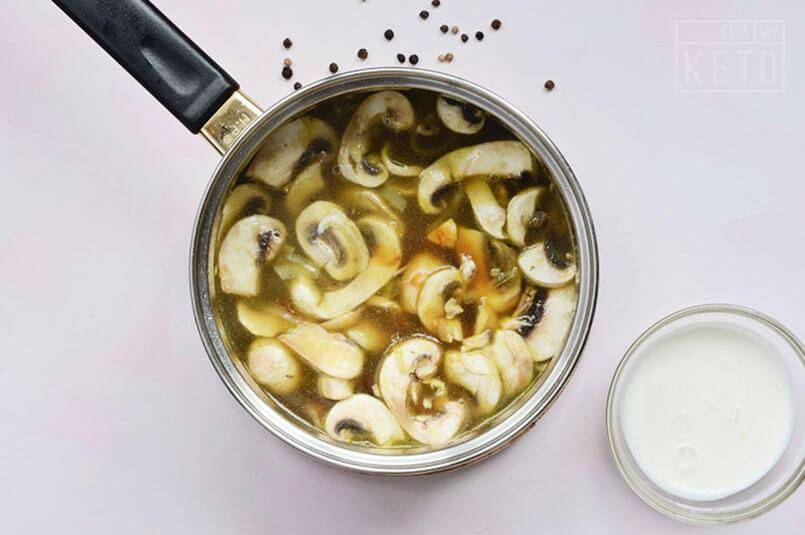 Instructions :
Reserve 1 teaspoon of butter and a few sliced ​​mushrooms.

Heat the remaining butter in a saucepan over medium-high heat.

Add the leeks and cook for 2 minutes.

Add the garlic and cook for 1 minute.

Add the mushrooms and cook for 2 minutes.

Pour in the broth and tamari sauce.

Simmer for 20 minutes. Remove from the heat and mash with a plunger. Season and pour in the heavy cream.

Reheat the soup.

In the meantime, melt the rest of the butter in a pan. Add the mushrooms and cook 8 minutes or until golden brown.


Serve the soup with sliced ​​mushrooms on top.
Tips:
You can modify this recipe to suit your personal preferences. Some people like to use Portobello mushrooms while others choose button mushrooms because they are cheaper. If you have cheese at home, you can use it as a garnish with the sliced ​​mushrooms.