Not all Caesar salad recipes are created the same. In fact, you might be surprised to learn just how unhealthy the Caesar salad recipes are at some of your favorite restaurants. Sometimes it can be healthier to just have a burger. Crazy, but true.
On the contrary, this ketogenic Caesar salad uses fresh and healthy ingredients like kale and chicken. It contains over 15 essential vitamins and minerals for half the calories of what you might find in a restaurant.
The difference is in the sauce: ours uses minimal ingredients to add flavor without any additives or extra calories. Anchovies, egg yolks, Parmesan, and olive oil or MCT FBOMB oil - everything you need to make a tasty, low-carb Caesar dressing.
Why is this Caesar salad nutritionally better than a classic Caesar salad?
Salads are one of those foods that most people just think of as healthy. But this assumption is not always verified: salads contain a range of different ingredients, from vegetables and meats to dressings and other toppings.
We are happy to say that this ketogenic caesar salad is not only healthy, but above all much better for your body, especially if you follow a low carbohydrate diet.
Here's a quick comparison:
Our Ketogenic Caesar Salad Recipe has just over 500 calories and 4.5 grams of net carbs per serving.
Wendy's Spicy Caesar Salad has 780 calories (!) And 41 grams of carbohydrate (!!).
Cheesecake Factory's Caesar Salad has 976 calories and 18 grams of carbohydrate.
We cut out all the unhealthy things to make this meal something really good for you.
You end up with a healthy, light yet hearty salad starter that is both satisfying and ketogenic-friendly.
Ketogenic Kale Chicken Caesar Salad
Preparation time : 15 minutes
Cooking time : 40 minutes
Portions: 4
Ingredients:
Salad
500g chicken thighs
1 pkg. (2 tbsp) FBomb olive oil or MCT FBomb oil
1 teaspoon of kosher salt
½ teaspoon of black pepper
1 teaspoon of garlic powder
1 bunch of washed and chopped kale (about 4 cups)

Homemade sauce
1 egg yolk
2 anchovies
Juice of 1 lemon
1 teaspoon of apple cider vinegar
¼ cup grated Parmesan
2 tablespoons of chopped parsley
Salt and pepper to taste
2 packages (4 tbsp) FBOMB olive oil or MCT FBomb oil
1 to 2 tablespoons of water, if necessary
Caesar salad instructions
Preheat the oven to 180 ° C.
Toss the chicken in the olive oil or MCT FBomb oil, salt, pepper and garlic powder. Bake on a baking sheet for about 30 to 40 minutes. Let the chicken cool, dice it or cut it into strips.
While the chicken is cooling, prepare the kale and put it in a bowl.
In a food processor, put all the vinaigrette ingredients except the olive oil. Turn on the blender and pour the olive oil from above in a steady stream. Once the dressing is emulsified, add 1 or 2 tablespoons of water if it is too thick and beat several times until the desired consistency is reached.
Toss the dressing and the chicken with the kale. It can be served immediately or stored in the refrigerator for a few hours.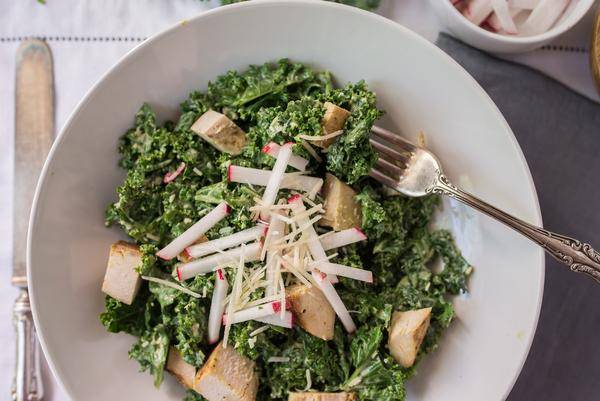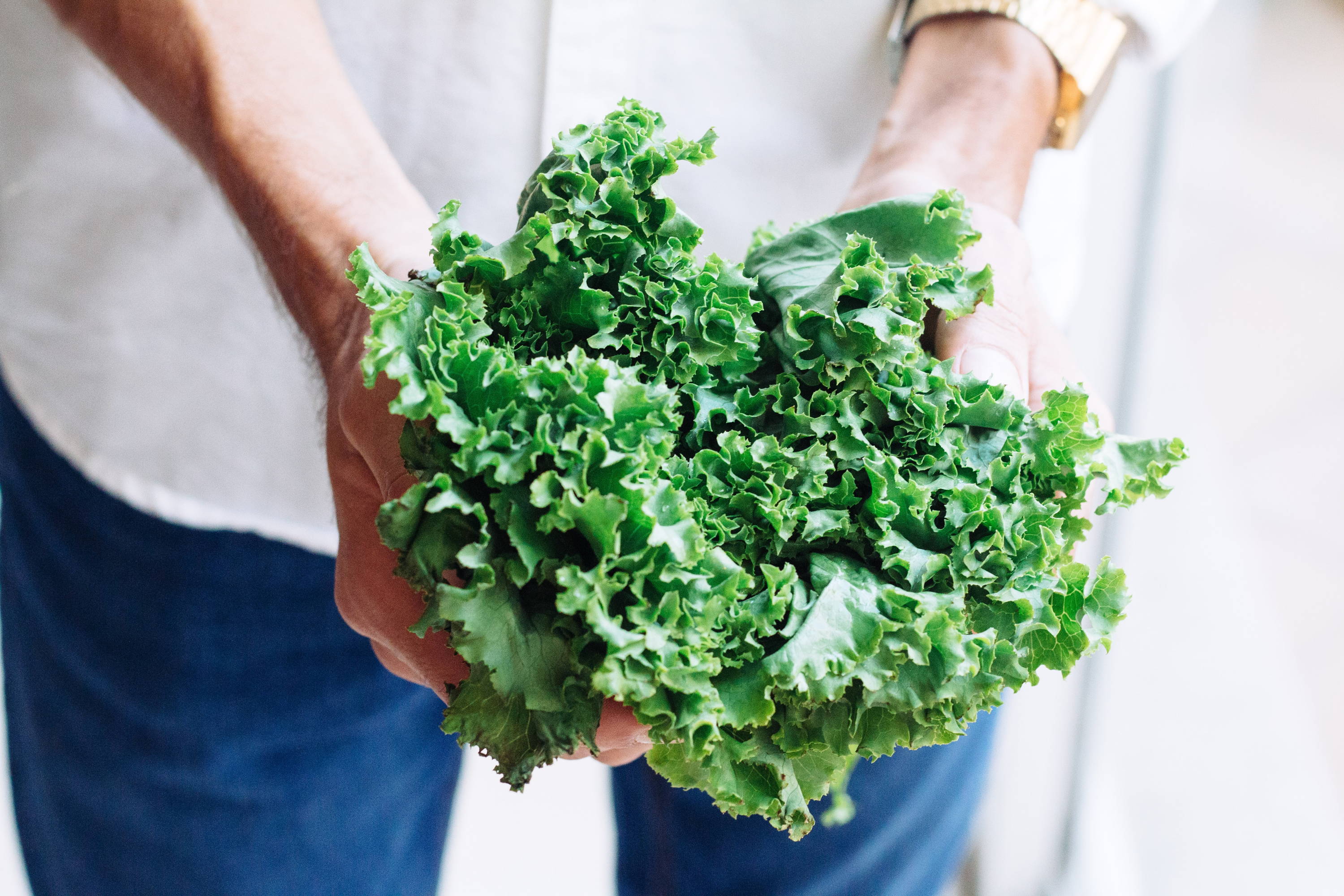 The key ingredient: kale
There are different types of kale:
Frieze
Lacinato
Russian red
Kale is the one with the most antioxidants.
How to select kale
Look for a dark green kale. Leaves should not be wilted and prefer small leaves for salads.

Tips for preparing kale
Wash the kale thoroughly just before cooking. You can also cut it first and use a colander if it's easier. Cut it into small pieces.
The nutritional benefits of kale
Kale is considered a superfood by many experts, and here's why:
A cup of kale contains:
33 calories
6.7g carbohydrates (and only 5.4g of net carbohydrates)
1.3g fibre
1 g of fat
2.2g protein
Vitamins A, C, K (more than your recommended daily amount), as well as B6, thiamin and riboflavin
Minerals such as manganese, copper, calcium, zinc, iron and magnesium
ET for calories?
Calories per serving of Caesar keto salad:
Calories: 515
Fat: 43g
Protein: 25g
Total carbohydrates: 7g
Fibre: 2.5g
Net carbohydrates: 4.5g
Macros:
Fat: 75%
Protein: 19.5%
Carbohydrates: 5.5%