Eating bread is not recommended when you are on a cereal diet: these Italian rolls are a perfect replacement. Made with layers of tasty salami topped with cream cheese, these spicy roll-ups will satisfy you. They are perfect as festive appetizers or as a snack. You can keep these rolls in the fridge covered with aluminum foil for a day.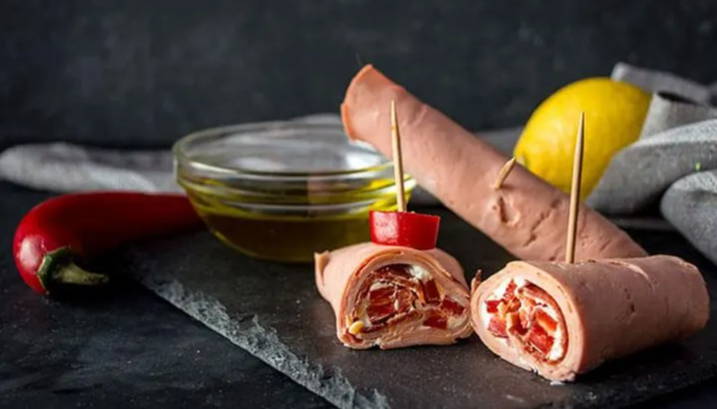 Preparation time: 10 minutes
Portions: 4
Ingredients:
4 slices of Italian mortadella
4 slices pork salami
4 slices Sopressata sausage
4 slices Cabanossi sausage
2 tablespoons cream cheese
2 red peppers, sliced (remove seeds for less heat)

Dipping:
4 tablespoons extra virgin olive oil
2 tablespoons lemon juice
Italian seasoning, to taste
Instructions:
Spread the meat slices from the largest to the smallest.

Spread cream cheese on the pile of salami and garnish with chilli.

Gently lift the salami and roll.

Attach the roller with toothpicks.

To make the dip, combine extra virgin olive oil, lemon juice and Italian seasoning. Whisk with a fork.

Serve the rolls with the sauce. Drizzle the buns with olive oil and enjoy.
high in protein and fat:
These rolls contain nearly 30g of fat, 15g of protein and only 2.5g of net carbohydrates per serving. They are also quite high in sodium (1200 mg per rollup). Lemon juice also provides a good portion of vitamin C. Calcium is provided by cream cheese.
Optional ingredients:
You can add a slice of cheddar or Swiss cheese and replace some of the peppers with avocado. This will not only increase their fat content and give them a fabulous mouth sensation that will make you want to eat more!