Here's a quick and easy breakfast or dessert recipe to share with the family. With just 4.3g of net carbs, 5.6g of protein, and plenty of fiber, this breakfast recipe will keep you full until lunchtime. You can also make it ahead of time and store it in the refrigerator. The flavor of coconut milk pairs perfectly with sweet and tangy raspberries. You can add mint leaves to add a colorful touch!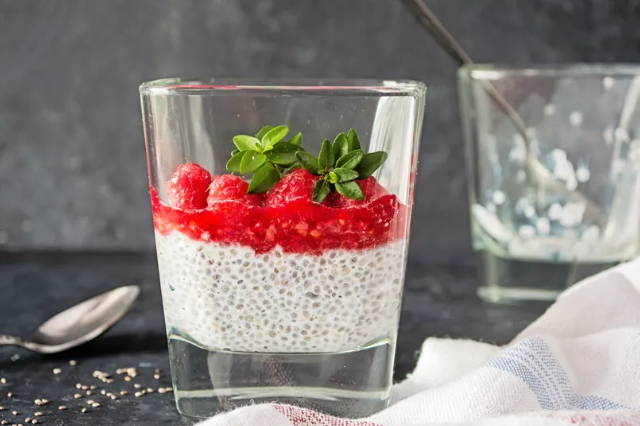 Preparation time : 10 minutes + rest time
Cooking time : 5 minutes
Portions : 4
Ingredients:
4 tablespoons of chia seeds
½ teaspoon of cinnamon
1 cup unsweetened coconut milk
4 tbsp. yogurt
10 drops of liquid Stevia or sucralose
Raspberry layer:
1 cup of fresh raspberries
2 tablespoons of water
Instructions :
Combine the chia seeds, cinnamon, coconut milk and stevia in a bowl. Cover and let stand 30 minutes.
Prepare the raspberry layer by mixing the raspberries and water in a saucepan.
Cook over medium heat until the raspberries are soft. Remove from fire.
To serve, mix yogurt and chia in a bowl
Divide the chia into four serving bowls.
Add the raspberry mixture on top.
Decorate with raspberries and mint
Benefits:
Chia seeds are one of the best sources of omega-3 fatty acids from plant sources. One serving of this breakfast dessert provides about 2,500 mg of omega-3 fatty acids, which is well above the minimum requirement of 300 mg for this nutrient. Plant-derived omega-3s help reduce inflammation, the risk of heart attack and stroke. Some of these can be converted into docosahexaenoic acid (DHA), an omega-3 important for brain and nervous system health.
Here are some products that could go with your ketogenic breakfast