---
Learn how to prepare a low-carb bread ideal for your ketogenic diet
---
Eating bread often rhymes with consuming carbohydrates . You will find many tips for preparing your keto bread and a low-carb bread recipe with almond flour at the end of the article !
What is the difference between a keto bread and a standard bread?
Ketogenic bread is a mixture of almond flour( or coconut flour), eggs, healthy fats and xanthan gum. The texture is the same as that of a bread you will find at the baker, but it contains about 20 times less carbohydrates than in normal times.
Ketogenic bread can be lactose-free: replace the butter with 1/2 cup of olive oil.
Easy tips before starting the preparation of a keto bread
Mix butter and coconut oil
If your butter was in the fridge, take it out in advance or warm it without melting. Add coconut oil once the butter is soft, then add the eggs, mixing at low speed.
What kind of butter to use ?
You can use any kind of butter, but pasture butter is best. We will soon write an article about butters to give you more details.
Dry ingredients
Mix the almond flour with xanthan gum, baking powder and salt. Then very gradually add this mixture to the previous mixture.
With what to replace xanthan gum ?
Xanthan gum acts as a binder that prevents bread from crumbling. If you do not have xanthan gum, you can replace it with :
Gelatin powder - use a teaspoon
From guar gum-use a teaspoon
From chia seeds - use a tablespoon
Nothing - the result will be good, but a little more crumbly
With what flour to replace almond flour if I am allergic ?
You can use multiple flours, making sure to change the proportions.
Coconut flour: 2 cups of almond flour is equivalent to 1/2 cup of coconut flour
Sesame seed flour
Flax seed flour
I don't feel like making my homemade bread
We offer a ketogenic bread easy and quick to prepare ! Try the keto and Co bread blend : this mixture gives a bread without sugar and gluten, ideal for bruschettas, burgers or gluten-free tartines !
How to store my ketogenic homemade bread ?
You can cut it into slices, place half in a tupperware in the fridge, and the other half in the freezer.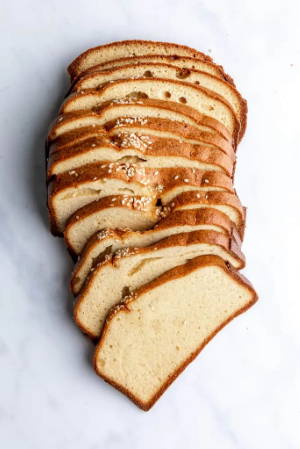 Gluten-free, vegetarian, low-carb ketogenic bread recipe
Ingredients
7 large eggs
100g butter
30g coconut oil
200g almond flour
5G baking powder
2G salt
2G xanthan gum
Preparation Instructions :
Preheat oven to 180°C
Beat eggs, add butter and coconut oil
Mix the dry ingredients and gradually add them to the liquid mixture
Place the dough in a cake pan and bake 45 min